The Office Detox
Work in a space that inspires not distracts!
Let us show you how.
What is the Office Detox?
Simply Maven's The Office Detox is an online course that teaches you to...
Create a vision for your ideal life + workspace
Determine which books, papers, and supplies to keep vs. let go
Avoid mistakes that lead to rebound
Implement organizing techniques to create time, ease, and joy in your work!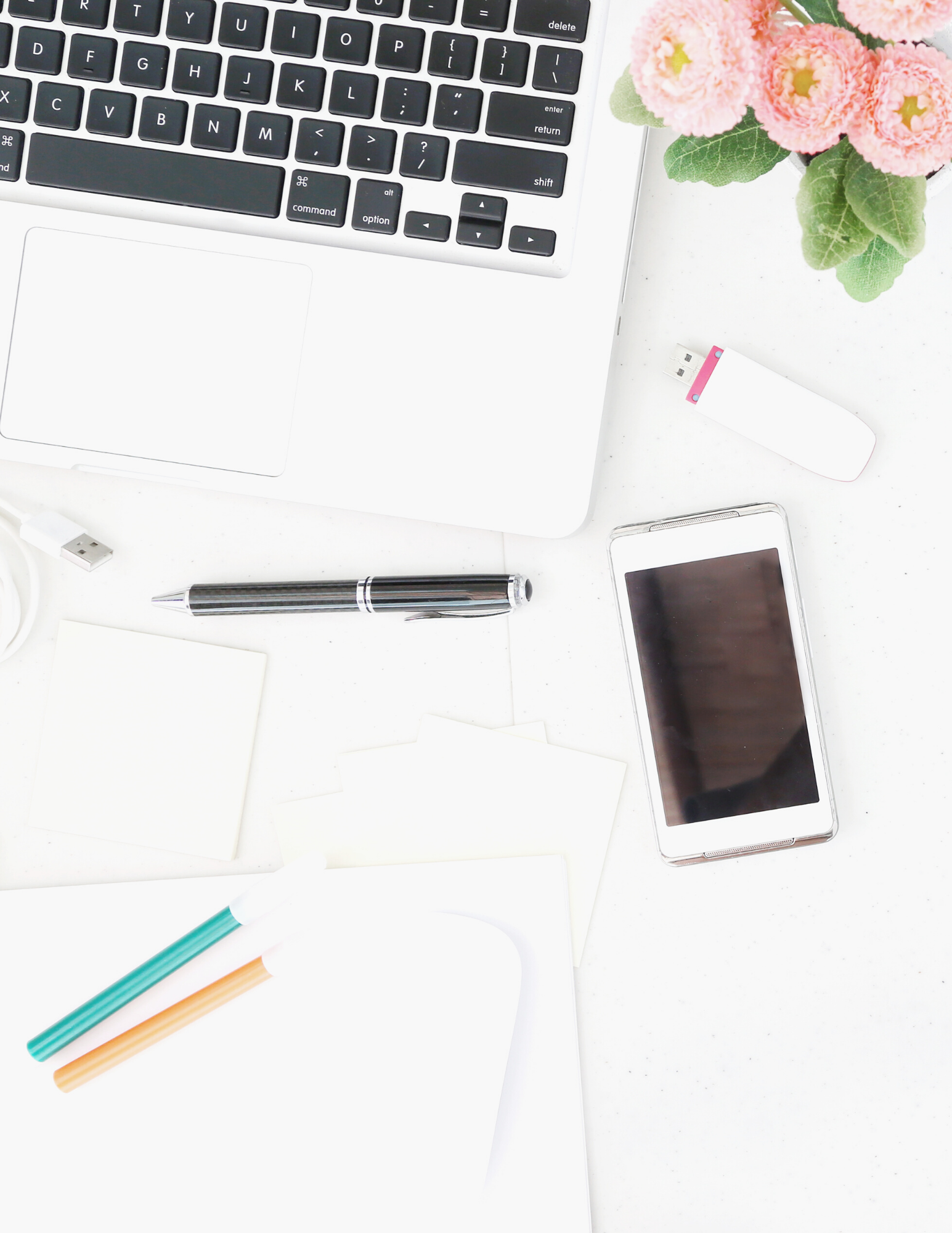 What to expect

Simplicity!
Know exactly what to do with our easy to follow resources.
Lifetime Access.
Once you buy, you're in. Forever! That includes any updates AND any time we host our virtual group programs.
A customized pace.
Fit the program to your schedule. Tackle it all at once, or in smaller sessions. It's completely up to you!
All our know-how.
Receive our expertise from 1000+ hrs of guiding private clients. We've seen just about everything and condensed it all into our videos, workbooks, and checklists.
Office Detox Workbook
Complete with checklists + exercises! ($39 value)
Video Tutorials 
These will guide you each step along the way! ($399 Value)
Storage Solutions Guide
Easily find and purchase the best solutions for you! ($19 Value)
Total Program Value: $467
Your Investment: $127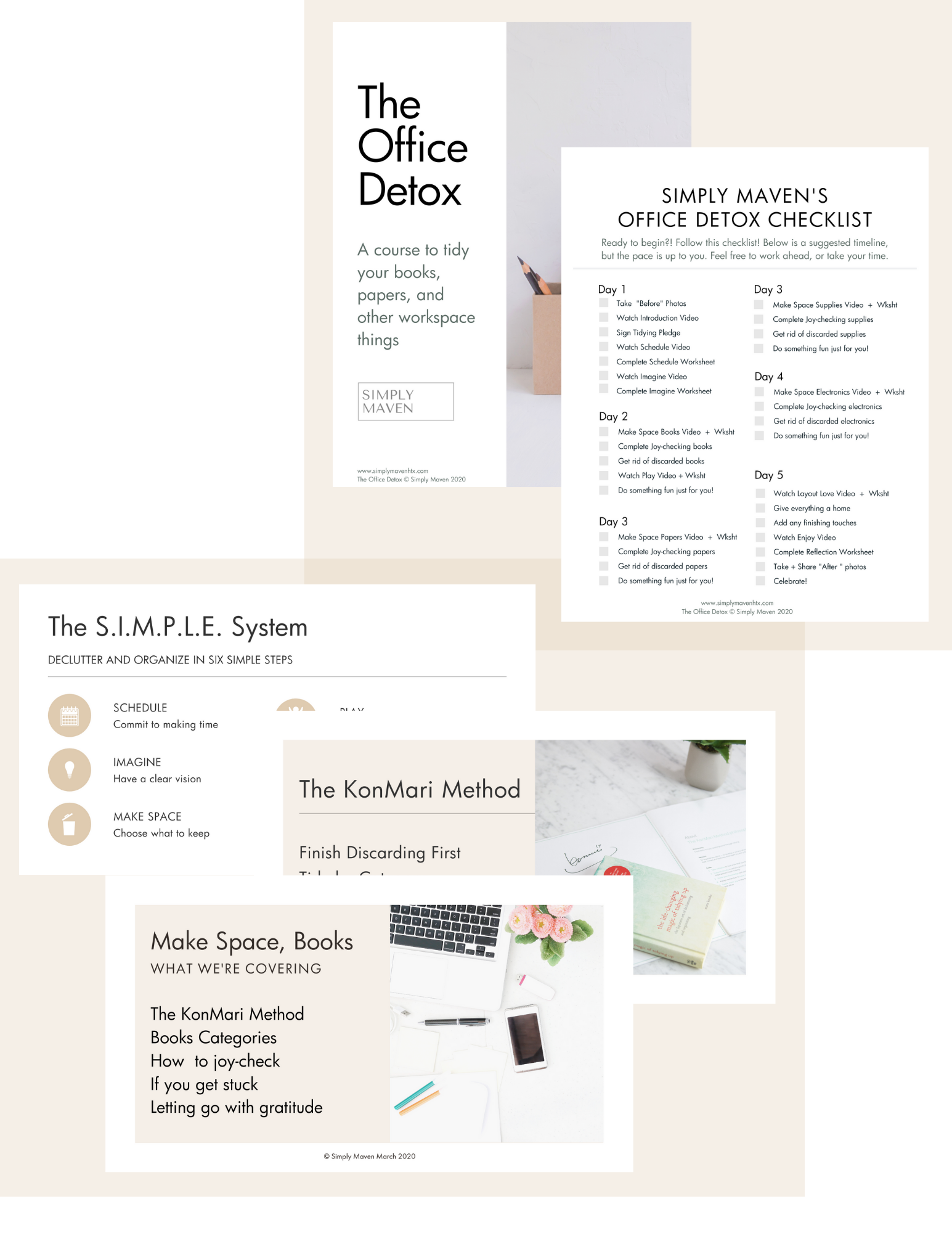 Ready to get started?!
Sign up below to begin today.
More about our
Virtual Group Program…
We are confident you can do this from the materials alone, but if you get stuck or have questions, we've got you!
Receive accountability and support whenever you need a refresh with lifetime access to our annual Office Detox Group Programs.
Next session starts March 2021!
What Others Say
"I just finished completing Day 1 of the Office Detox and I am very inspired. Even though I've read "The Life-Changing Magic of Tidying Up" several times, your course has the guidance and accountability that I need. Thanks for creating this excellent resource."
— Lisa 
"I've actually gotten more done and enjoyed the process more because of the positive affirmations that came from working together. Instead of pushing to finish in a set timeline, it was about molding to my needs but focusing on finishing. That mental shift made a huge, positive difference!"
— Amanda
"But truly, your approach to this work is soft, fluid and yet firm and intentional. We so appreciate that approach in all aspects of life and your framework gives us a little more direction on how to best set boundaries and manage our schedules so that our schedules don't manage us." 
— Jennifer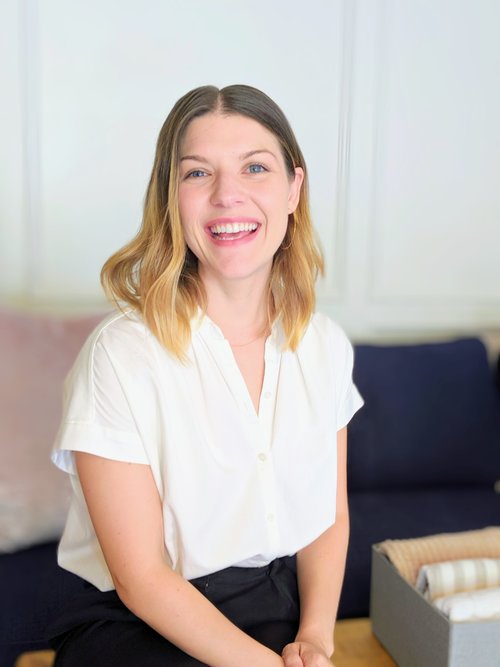 Hi! I'm Ashley Barber. Nice to meet you!
I am Houston's first certified KonMari Consultant, a KonMari Inc. Approved Speaker, legacy lululemon ambassador, and founder and co-owner of Simply Maven.
Certified at the KonMari Platinum Level with 900+ hours, I guide our clients —from busy families to professionals – along their personal path to editing, organizing, and enjoying their homes!
I live for life's "aha!" moments and get the most satisfaction out of helping clients release what is holding them back.